Halal Food Accessibility and Technologies in Singapore
As we navigate through the recovery phase of COVID-19, turning our focus inward towards our domestic markets, the next iteration of our Mastercard-CrescentRating reports shifts its focus to the F&B industry and ways it can better engage with Muslim diners.
We kick off this series with a deep dive into Singapore's domestic Halal dining market, as it is known for being a food haven and fusion of cultures. With its unique demographic make-up, Singapore stood in its premier position as the top Muslim-friendly non-OIC destination for Muslim travelers.
Dubai Islamic Economy reported the Halal food industry as a trillion-dollar fast-growing market segment due to increased consumption of Halal food all over the world. This growth in the Muslim population around the globe explains the growth in the Halal food industry.
With this exponential growth, Halal food businesses have started to rethink their conventional supply chains to actively address the consumer concerns coming from food. This whole process of revamping old ways calls for leverage in new technologies. With the technological advancements, great potential for the Halal food Supply chain has been observed.
"Technology such as social media and mobile apps have contributed a lot, especially during the Circuit Breaker period. Retailers have learned how to leverage Facebook, Instagram, and even WhatsApp and Telegram to reach out to potential customers. Consumers have relied much more on digital content to find out the latest products and search for competitive prices," said Habib Mansoor, Senior Business Development Executive of Pondok Abang.
Society has also become conscious of sustainable food production especially Muslims primarily because it is a religious obligation to consume Halal food only. Technology, here, comes into play by filling in the gaps. As suggested by the Islamic Religious Council of Singapore, Halal food eateries should also keep up with the changing food preferences of the local Muslim consumers and cater to their needs and preferences.
In this article, we explore some key findings from our research, namely the effect technology advancement has on the Halal dining ecosystem.
The Inevitable Social Media Power
Given that the majority of Singaporeans have access to the internet and that more than 79.0% use social media, these online platforms will continue to be crucial in fostering the development of the Halal food industry in Singapore. According to the report, 88.0% of people obtain information about new Halal food in Singapore through social media while 62% and 53% use food blogs and word-of-mouth from family or friends respectively.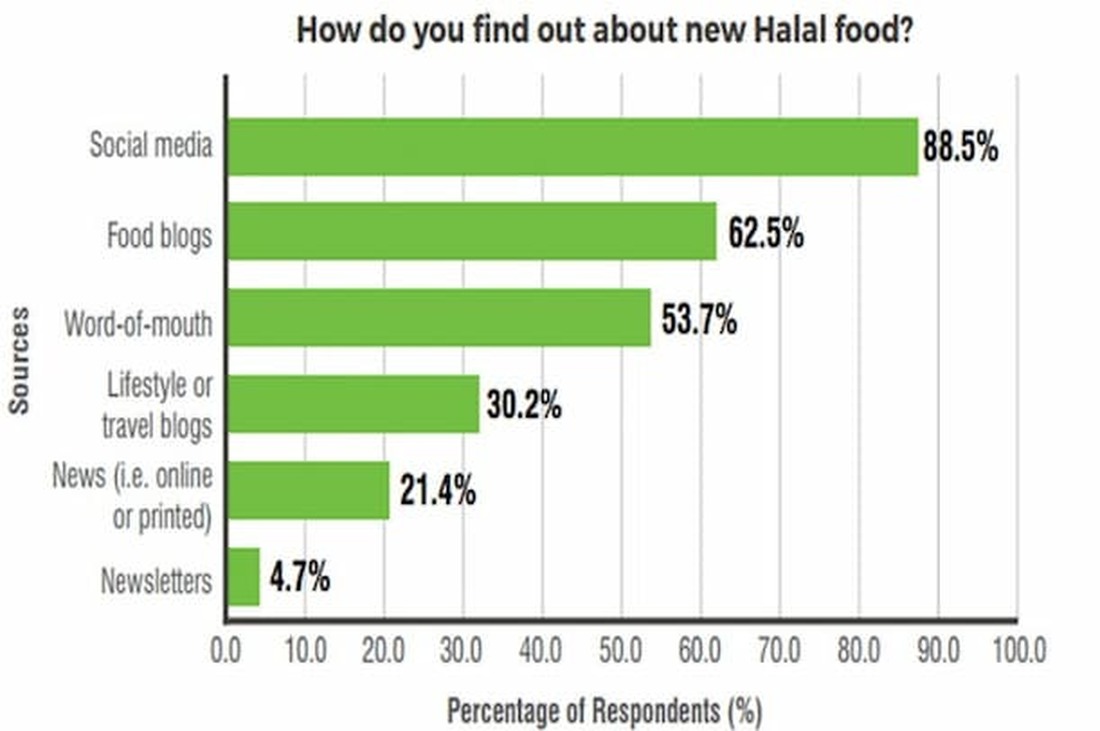 Image Credit: crescentrating
Halal food establishments in Singapore are utilizing these platforms to market their products and services. For example, the popularity of American cuisine, burgers, and other fast food has been due to many fast food chains going Halal some years ago. Increased travel to Japan and Korea, and exposure to their culture through media have been one of the driving forces behind the popularity of these cuisines among Singaporeans.
While Muslims will continue to raise a concern related to Halal food, the restaurants need to emphasize Halal food provision and trust-building. Keeping a close eye on Singaporean Muslims' media consumer behavior could also help predict future Halal cuisine demand.
Halal Food Delicacies at your doorstep
Online food marketing is becoming one of the top businesses. Online food platforms allow people to order their favorite food from the comfort of their homes. Additionally, the stats have shown that amid the current pandemic, the online food ordering trend has even hiked. Similarly, Singaporean Halal Food businesses have inculcated food delivery services in their marketing strategies. Almost half of the respondents in Singapore order Halal food online at least once a week according to the report. People can enjoy their trusted Halal food at their doorstep due to the ease of home delivery services especially with improved protocols during covid 19.
In terms of service accessibility, the fast food industry should consider further expanding its reach to Muslim consumers. Restaurants can make sure that each media type effectively integrates with the other to deliver a seamless customer experience, in addition to increasing their market presence in both offline (i.e., outlets) and online channels. Customers might be encouraged, for instance, to use the restaurant's mobile app while they are there.
As per a survey in Halal Food Lifestyle-Singapore, McDonald's is third when it comes to most used food delivery services with rising Halal options in Fast food.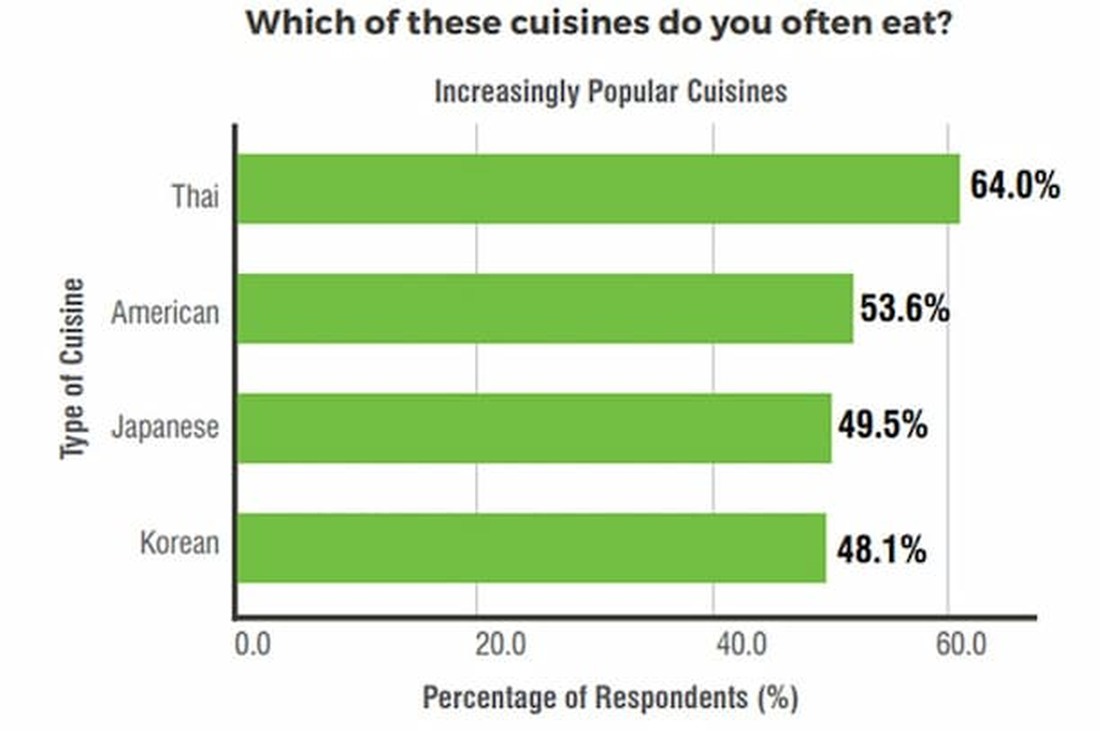 Image Credit: crescentrating
All in all, with the transition towards online food services, Muslims can easily access Halal food in Singapore.
The Struggle of Home-Based Businesses
While the online markets stay flooded with food businesses because of technological advancements in the food industry, the Home Based Businesses, unfortunately, stay somehow neglected. Less than 5.0% of customers make at least one weekly purchase from HBBs, and another 27.0% make just one or two purchases per month. Almost one-fourth have never made any purchases from HBBs. This particularly happens because of a lack of engagement and reach by sellers online. Either the food is not of good quality or there is little to no assurance of Halal food. The prices too are comparatively higher. One respondent conveyed, "HBBs do not appear as reliable. If it's on a food service platform, the terms are clear and it is much safer in terms of convenience and whether your food arrives safely." Another explained, "Sometimes I want to support small Muslim businesses so I buy their food, but sometimes I don't buy because the company's marketing is not very good (e.g bad photos of food/ bad customer service)
Since microbusinesses have suffered the most during the current pandemic, there is a dire need to encourage Home Based Businesses while they struggle to sustain themselves. Here, local agencies should come into play to help Home Based Businesses owners to minimize the pain points and maximize their revenues.
As micro-businesses are the hardest hit during the pandemic and are still struggling to do well in the dining ecosystem, further support from the local agencies and associations is crucial to help Home Based Businesses owners reduce the pain points consumers currently face.
Conclusion
In conclusion, technology has aided the Singaporean Halal food industry to produce and providing better Halal food options to Muslim consumers. However, some challenges like lack of user acceptance, cost and regulation, and technological immaturity require attention.
Download report