As we navigate through the recovery phase of COVID-19, turning our focuses inward towards our domestic markets, the next iteration of our Mastercard-CrescentRating reports shifts its focus to the F&B industry and ways it can better engage with Muslim diners.
We kick off this series with a deep-dive into Singapore's domestic Halal dining market, as it is known for being a food haven and fusion of cultures. With its unique demographic make-up, and being the top non-OIC Muslim friendly destination in the Global Muslim Travel Index, Singapore poses as a fertile landscape for in-depth research on Halal food ecosystems within non-Muslim-majority countries.
What drives the Halal Food Ecosystem in Singapore?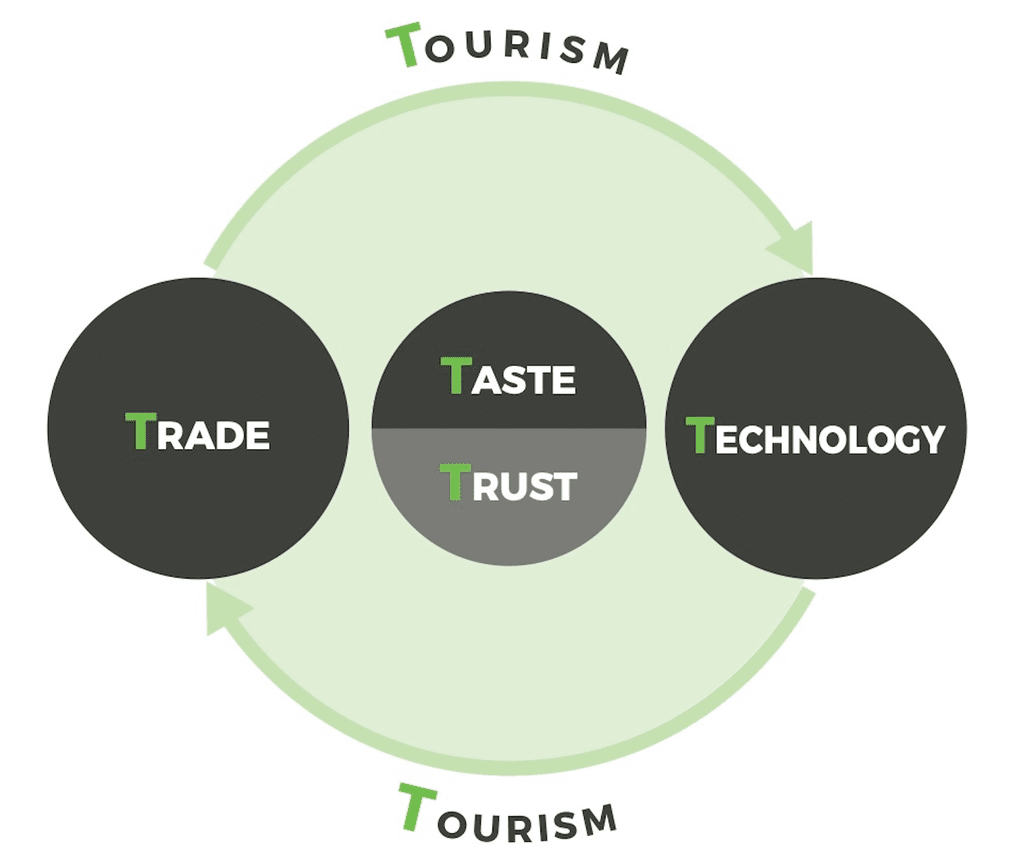 In our report, we have developed a framework to comprehensively dissect and analyze the Singapore Halal food ecosystem and their key drivers. This framework is known as the 5Ts, referring to Trade, Taste, Technology, Trust and Tourism.
Trade and Technology are largely external drivers while Taste and Trust are internal drivers. Tourism proves to be a key accelerator enabling and linking all other factors.
The 5Ts that drive the Halal Food Ecosystem
Trade (External)
An external driver in the 5Ts framework, Trade refers to the link between the service providers, organizations, governments and commerce in the Halal food ecosystem. This section highlights the importance of trade and commerce in the ecosystem, as well as the influence of non-Halal food industries on Halal food.
External factors such as demographics, media and accessibility are examined, uncovering areas for entrepreneurs and F&B stakeholders to explore new opportunities and further develop current ones.

Taste (Internal)
This section of the report explores everything to do with the consumer's palate, purchasing power and habits, brand power and lifestyle preferences. We share our insights on how lifestyle preferences may affect the consumer's purchasing habits, as well as possible solutions given these insights.
We also chart the evolving tastebuds of Singapore consumers, navigating the consumer's attitudes towards familiar foods and rising cuisines.

Technology (External)
Can technology really boost your market share?
In our Halal Food Lifestyle report, we take a look at technology as a key driver for the F&B industry, influencing Halal food distribution and communications as well as industry disruption and transformation.
Our study outlines technology as a present industry catalyst and zooms in to the new frontier in food and technology integration.

Trust (Internal)
The fourth key driver we have identified in the Halal food ecosystem is Trust.
This is an essential component to understanding the Muslim consumer, as it deals with Halal assurance, awareness and viable options for the consumer. Though it may seem daunting to those who are unfamiliar, the elements that go into Halal assurance can be learnt in an easy, comprehensive manner.
Gain insights on Halal assurance and value creation in our report, as well as the subtleties of labeling, consumer-brand trust and alternatives.

Tourism (Key Accelerator)
The final and all-encompassing driver in our framework is Tourism. A key accelerator enabling and linking all other factors, Tourism creates the movement of trends between seemingly unrelated cultures.
This part of the report charts the spread of people, culture, ideas and influences, uncovering the role of tourism and immigrants in contributing towards Halal food scene. Here, we also examine the challenges and synergies between Muslim-friendly travel and Halal food.

Conclusion
Singapore's domestic Halal dining market is estimated at SGD 700 million in 2019. Although COVID-19 disrupted this in 2020, this indicates the short to medium term domestic market potential post-COVID. Moreover, with Muslim visitors to Singapore spending SGD 300 million in 2019, the total Halal dining market was estimated to be SGD 1 Billion.
We hope the insights in our report will assist the F&B stakeholders to better cater to the Muslim consumers in Singapore. This should also allow entrepreneurs to discover new opportunities as well.