As we look forward to the opening of economies after two challenging years, directing our focused efforts on Halal dining, Mastercard-CrescentRating releases another food report focusing on the F&B industry in Indonesia.
Looking back at our previous food report analysis series, we focused on the insights for F&B stakeholders in Singapore to cater better to the Muslim consumers after a successful report launch of the Halal Food Lifestyle Report, Singapore 2021.
We kick off another series with a deep dive into the comparisons of Singapore and Indonesia Halal Dining markets. With Indonesia as one of the top OIC destinations, Singapore is the top non-OIC Muslim-friendly destination. The comparisons between Indonesia and Singapore's reports pose an opportunity for extensive research on Halal food ecosystems.
In this article, we identify key findings from our research, specifically the popular cuisines consumed by Muslims in Indonesia and Singapore. Our key findings include the effect of consumers' media consumption on food consumption, the potential factor of media consumption on the growth of the halal food scene as well as key takeaways for food industry stakeholders.
Distinctions between Indonesia and Singapore
Notably, the religious belief percentage for the two countries reveals that Indonesia has an 87.2% Muslim population compared to Singapore's 15.6% Muslim population. The considerable percentage difference may be seen in the contrast of culture between the two.
For example, Indonesia's predominantly Muslim population creates a larger market for food industry stakeholders to create and provide a larger variety of Halal cuisines. As compared to Singapore's smaller Muslim population, Halal cuisines are available but the competitive market may not be comparable to Indonesia's.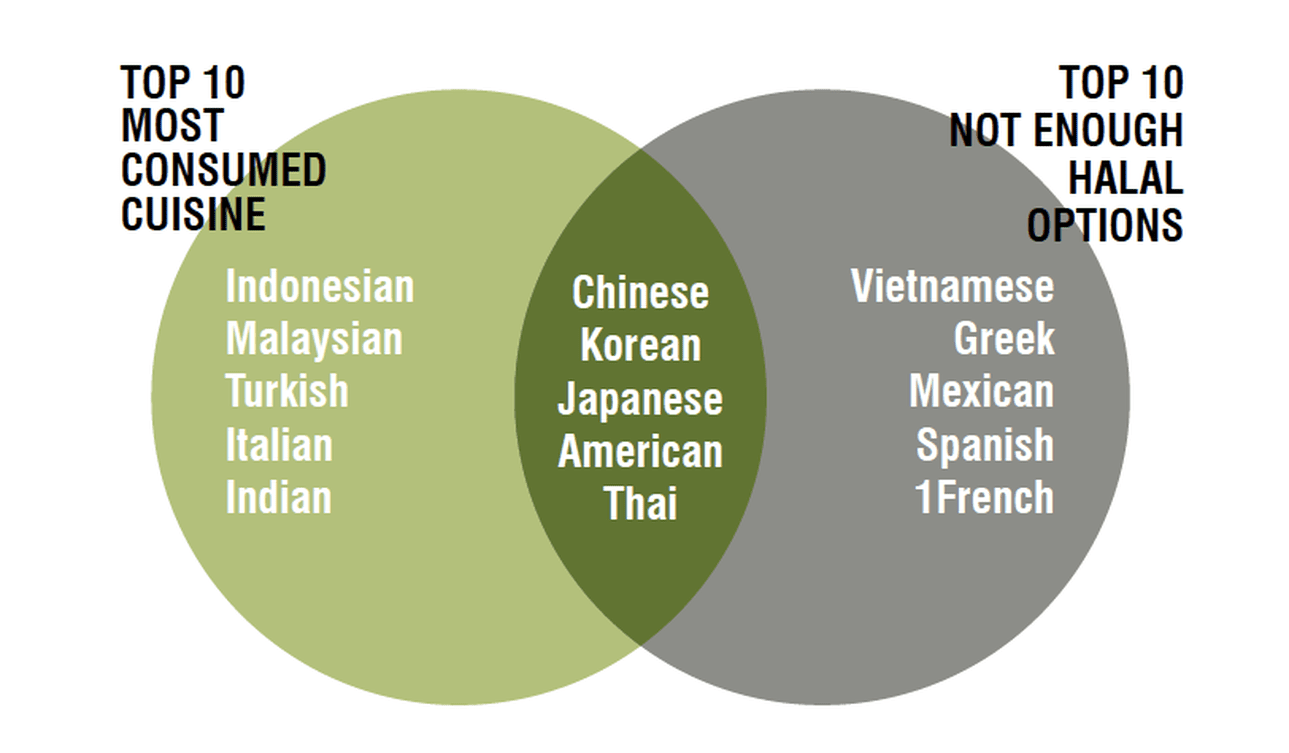 Popular Regional Cuisines in Singapore
According to the Singapore report, the top 4 cuisines that are becoming increasingly popular in Singapore are Thai, American, Japanese, and Korean. Of our 500 survey respondents, 64% often consume Thai cuisines.
Most comments express that the variety of authentic cuisine are lacking in Singapore. Other responses include wanting more Halal eateries that serve different Asian cuisines.
"I wish Korean food or Japanese food have more varieties. Hardly can eat authentic shabu shabu (the ones I had in Japan were really good) and the japchae is almost non-existent or not authentic enough."

"Would love more Western or Japanese Halal places"*
*Comments from survey respondents
Industry player opportunity #1: F&B players may watch Singaporean Muslim media consumption patterns to help identify and anticipate future demands of Halal cuisine.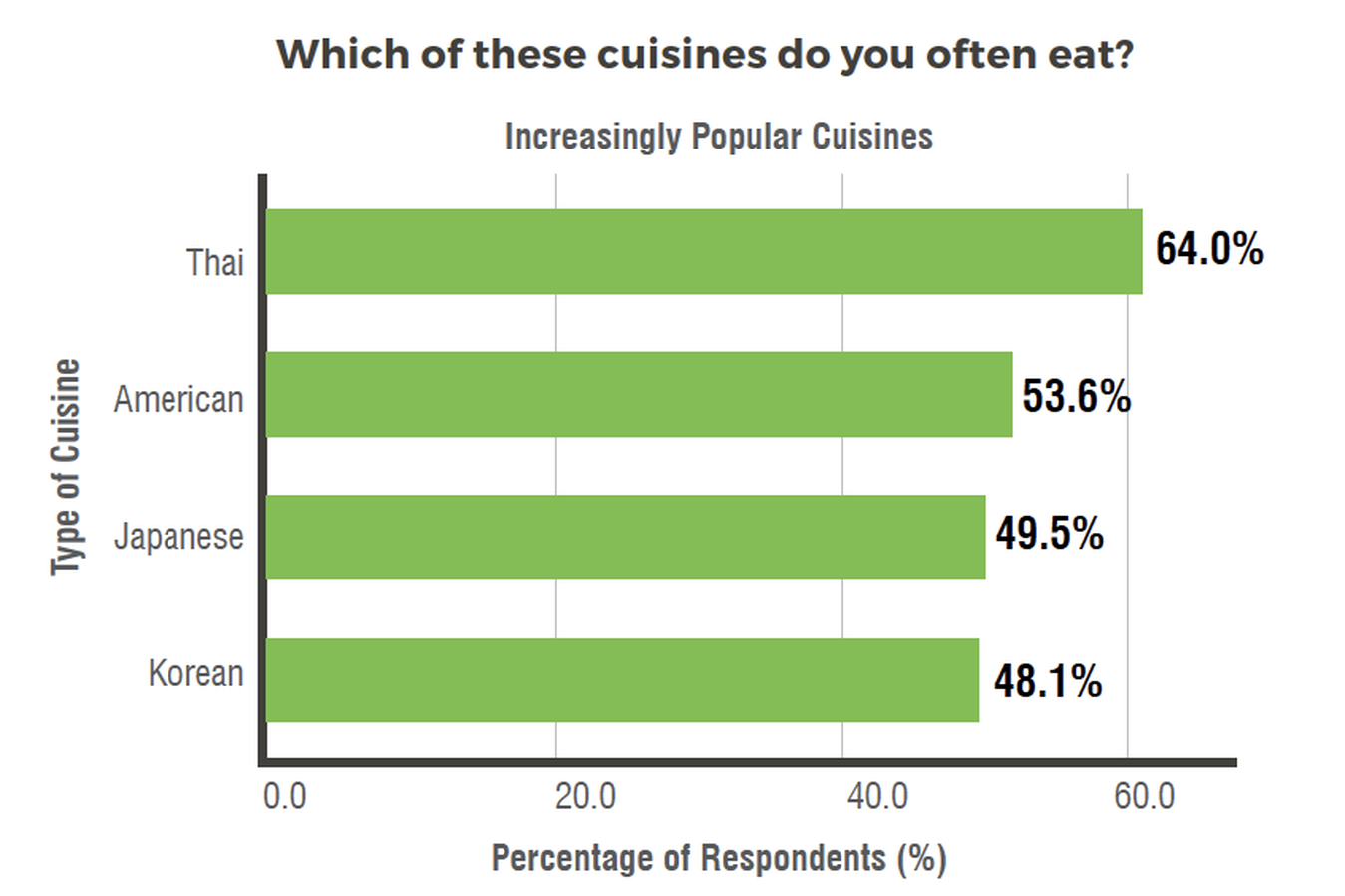 Most Consumed Cuisines in Indonesia
The top 10 most consumed cuisines in Indonesia are Indonesian, Malaysian, Turkish, Italian, Indian, Chinese, Korean, Japanese, American, and Thai.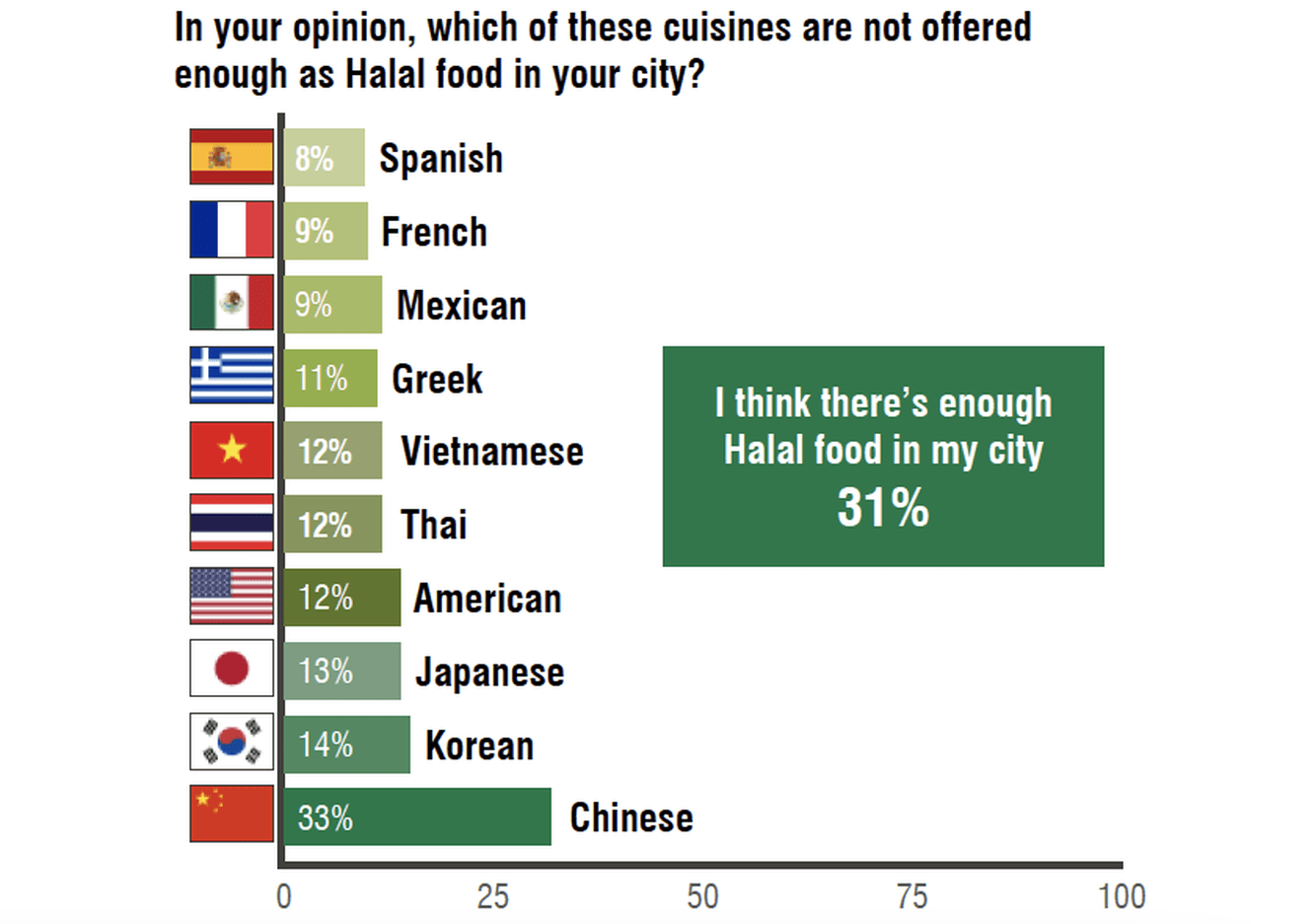 Although 31% of our 1000 survey respondents pointed out that there is enough Halal food in their city, 33% also indicated the lack of Halal Chinese cuisine offered. In spite of five of the most consumed cuisines, survey respondents also indicated they lacked Halal options. It includes Vietnamese, Greek, Mexican, French, and Spanish.
Industry player opportunity #2: Apart from providing authentic regional cuisine, F&B players may also consider looking at growing trends that can help them gain a competitive edge and unique selling point
How does media consumption influence consumer behavior?
On the other hand, the Singapore report observes how the consumer's media consumption and behavior may be the driving force for Halal cuisines. Comparing the list between both countries shows a common demand for American, Korean, Japanese, and Thai.
As such, F&B players may look for opportunities through observing Muslim consumers' media behavior.
Growing Opportunities for Industry Players
Identify opportunities to innovate and diversify Halal Food option

Educating F&B players for business growth

While there is demand for Halal cuisines, the availability of Halal-certified ingredients is limited. F&B players can seek market opportunities by understanding Halal food practices.
Conclusion
The Halal dining market is rapidly growing with large potential spending growth. Both Indonesia and Singapore's spending on Halal dining and delivery is an estimated SGD 700 million and IDR 1,000 Trillion respectively.
We hope the insights in our reports will help the F&B better cater to the Muslim consumers in Indonesia and Singapore. This may also allow entrepreneurs to discover new opportunities as well.
Download the full report here.