As we navigate through the recovery phase of COVID-19, turning our focuses inward towards our domestic markets, the next iteration of our Mastercard-CrescentRating reports shifts its focus to the F&B industry and ways it can better engage with Muslim diners.
We kick off this series with a deep-dive into Singapore's domestic Halal dining market, as it is known for being a food haven and fusion of cultures. With its unique demographic make-up, and being the top non-OIC Muslim friendly destination in the Global Muslim Travel Index, Singapore poses as a fertile landscape for in-depth research on Halal food ecosystems within non-Muslim-majority countries.
In this article, we explore some key findings from our research, namely on the influences of tourism – the spread of people, culture, ideas and influences – in Singapore's Halal food ecosystem.
Our research reveals the most consumed cuisines by Singaporean Muslims, the role of tourism and immigrants in contributing towards the Halal food scene as well as the challenges and synergies between Muslim-friendly travel and Halal food.
How tourism influences food lifestyle choices for Muslims in Singapore (Key Drivers)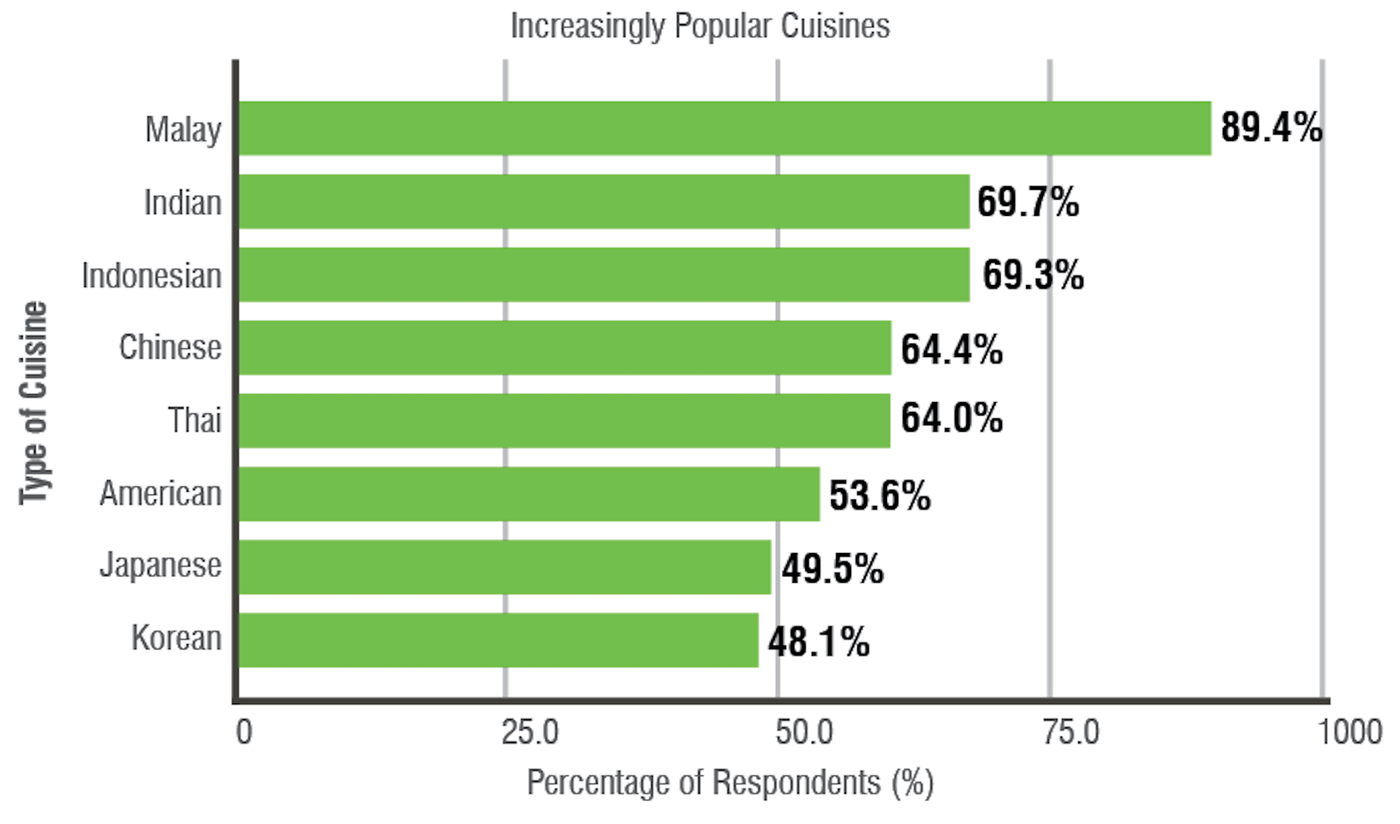 From our survey, we found that the top 5 frequently consumed cuisines by Muslims in Singapore are Malay (89%), Indian (70%), Indonesian (69%), Chinese (64%) and Thai (64%) cuisines. These are followed by the next 3 frequently consumed cuisines – American (53%), Japanese (50%), Korean (48%).
These findings can be accounted for using a combination of reasons, like local ethnic mix, the influences of Muslim tourists visiting Singapore (inbound tourism) as well as the influence of Singaporean Muslims' behaviour and preferences in terms of travel (outbound tourism).
Local ethnic mix
The most prominent statistic we see in our study is that of the top 4 frequently consumed cuisines by local Muslims. These food preferences reflect the cultural dynamics of Singapore.
Chinese, Malay and Indian ethnicities represent more than 98.0% of the local population. More than 80.0% of local Muslims are of Malay ethnicity. This has led to a long standing hawker centre and food court culture, dominated by these local cuisines and has been one of the prime drivers for these consumption patterns. This has also led to cross-cultural influence on food.
Key Takeaway #1: There is an opportunity for F&B players to tap into these strong bases of local cuisines consumption patterns by exploring and innovating, while still being true to their traditional tastes and presentations. The younger generation may require not just a refined taste of these traditional fare, but also healthier versions of them.
Visitor Influence: Influence of Muslim tourists visiting Singapore (Inbound Tourism)
The demographic of Muslim visitors to Singapore may also account for and influence the demand and supply of specific cuisines within the country. Upwards of 85% of Muslim tourists visiting Singapore are from Indonesia, Malaysia, India and Bangladesh. This corresponds with the top sought-after Halal cuisines in Singapore. It might thus benefit the industry to keep an eye out for the demographic of Muslim visitors into Singapore – the countries they come from and their preferences.
Destination Influence: Influence of most travelled-to destinations by Singaporean Muslims (Outbound Tourism)
The travel trends of Singaporean Muslims may also reveal trends within the local Halal food scene. The top 10 travel destinations by Singaporean Muslims are as follows:
Malaysia

Indonesia

Thailand

China

Hong Kong

Australia

Japan

Taiwan

Vietnam

South Korea
Consumed media and entertainment
Increased travel to Japan and Korea, and exposure to their culture through media has been one of the driving forces of the popularity of these cuisines among Singaporeans. For example, the surge in Korean food due to Mukbangs ('Eating Shows') and the rise of K-Pop has influenced consumers to explore Korean cuisine.
Key Takeaway #2: With the ever-growing interconnectivity between countries and cultures and the ease of international commerce, the industry has many opportunities to expand on its Halal offerings. Expand on these regional Asian cuisines as well as venture out into the new types of cuisine that offers a fusion of Asian and Western food.
Key Takeaway #3: Keeping a close watch on Singaporean Muslims' media consumption patterns could also help anticipate future demands of Halal cuisine.
Conclusion
Singapore's domestic Halal dining market is estimated at SGD 700 million in 2019. Although COVID-19 disrupted this in 2020, this indicates the short to medium term domestic market potential post-COVID. Moreover, with Muslim visitors to Singapore spending SGD 300 million in 2019, the total Halal dining market was estimated to be SGD 1 Billion.
We hope the insights in our report will assist the F&B stakeholders and entrepreneurs to unlock the potential of the Halal food market in Singapore and discover new opportunities as well.