As we navigate through the recovery phase of COVID-19, turning our focuses inward towards our domestic markets, the next iteration of our Mastercard-CrescentRating reports shifts its focus to the F&B industry and ways it can better engage with Muslim diners.
We kick off this series with a deep-dive into Singapore's domestic Halal dining market, as it is known for being a food haven and fusion of cultures. With its unique demographic make-up, and being the top non-OIC Muslim friendly destination in the Global Muslim Travel Index, Singapore poses as a fertile landscape for in-depth research on Halal food ecosystems within non-Muslim-majority countries.
In this article, we explore some key findings from our research, namely on the effect that consumer perceptions and needs have on trade and commerce in Singapore's Halal food ecosystem. Our findings reveal Muslim consumers' perceptions of the availability of Halal food across the country, the continual growth of the Halal food scene as well as key takeaways for food industry stakeholders in Singapore.
Wide variety of Halal food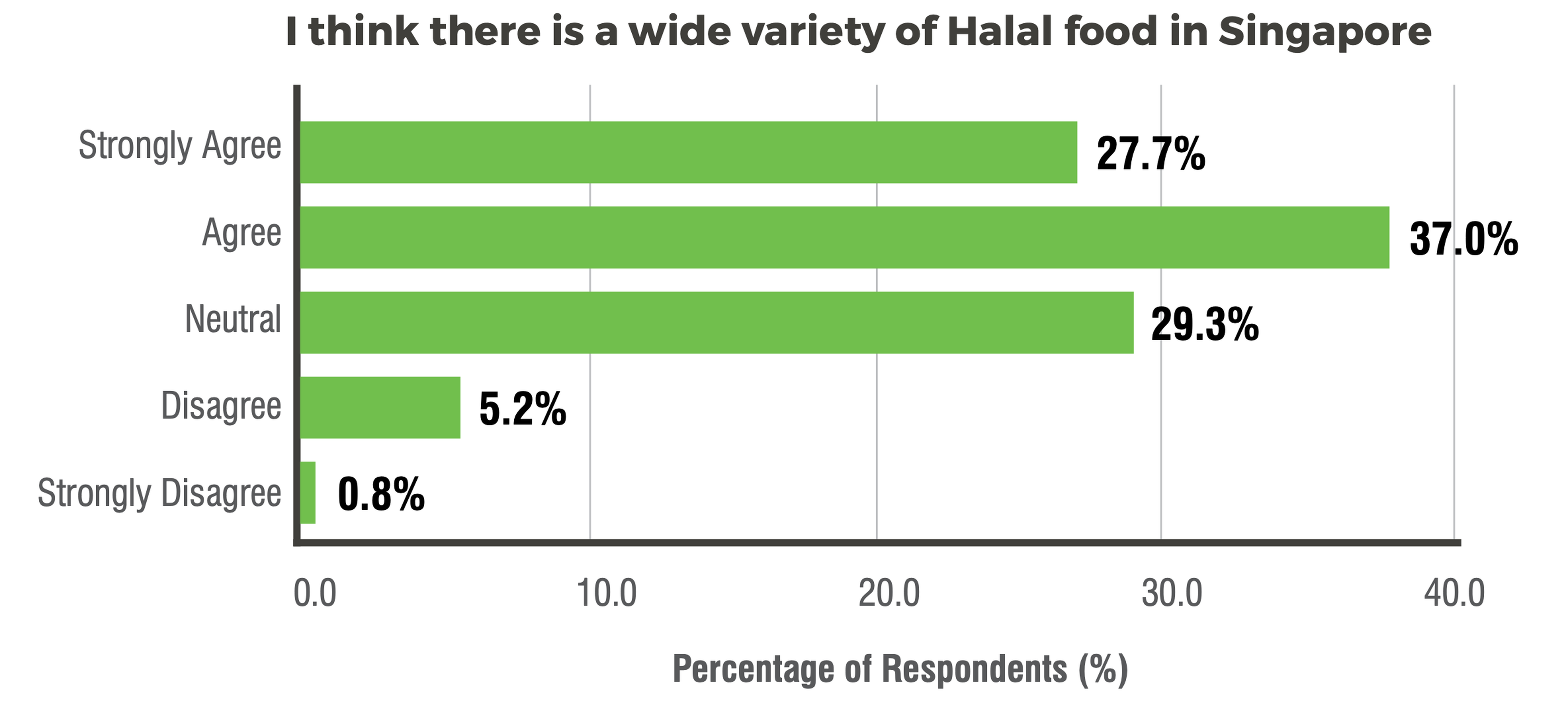 Of our 500 survey respondents, 65% believe that there is a wide variety of Halal food in Singapore. However, many of their comments express a demand for wider availability of Halal food establishments across the island. The respondents also commented on how many Halal eateries are concentrated in several clusters islandwide.
Most comments indicate that there are not enough Halal eateries in the West and heartland areas. Some respondents have also commented that the quality of Halal food is not up to their standards.
"I would like to see more interesting Halal food in the HDB areas, not just in town or tourist areas"

"Most of the Halal cafes which have sustained is in Arab street and not in heartland areas." *
* Comments from survey respondents
Halal cafes, fusion food and clusters
The last few years have seen a rapid expansion of different types of Halal cuisine in Singapore. Most Asian cuisines are now widely available as Halal options.
Furthermore, with the increase in the number of Halal cafes in the scene, fusion food is now widely available as well, namely catering to a younger Muslim demographic. However, it must be highlighted that many of these cafes are located within clusters such as Arab Street, Kampong Glam, Geylang Serai and Little India.
Key Takeaway #1: Given that Singaporeans, in general, are open to experimenting with different types of cuisine, F&B players have an opportunity to innovate and continue to expand the variety of Halal food available.
Halal food concentration map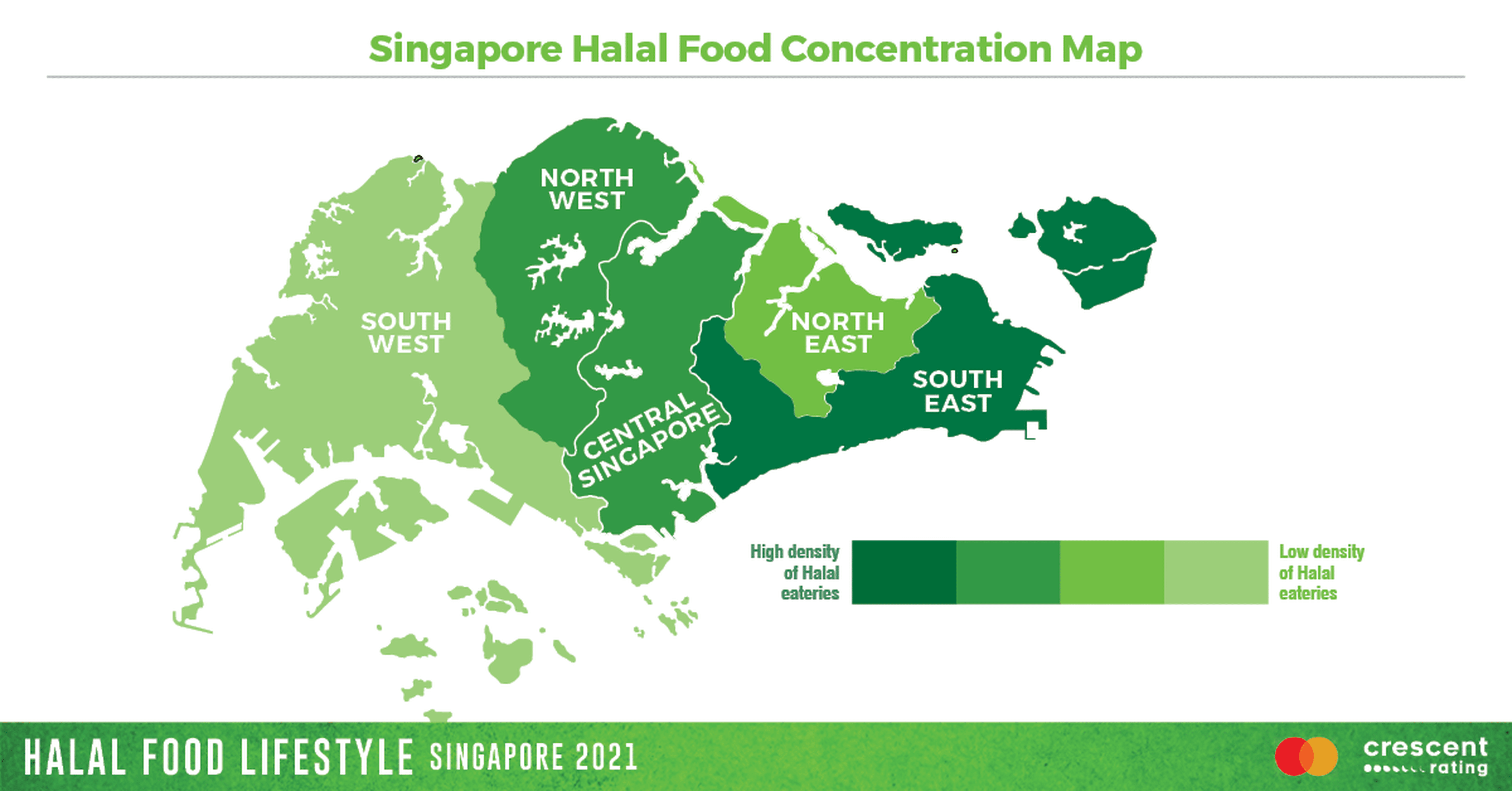 Singapore's South East region has the most concentration of Halal food, followed by the North West and Central regions. The North East and South West regions, on the other hand, have a lower density of Halal food available.
Our research has also identified several major Halal food clusters located in Kampong Glam, Geylang Serai, Little India, Tampines, Bedok, Woodlands, Jurong East and West areas.
Key Takeaway #2: The industry can create opportunities by looking at the Halal eateries footprint across the island and identifying gaps in availability in some regions of the island.
Halal food scene growth
Since 2013, the number of Halal certified restaurants have had a CAGR* of 9.4%. In 2019, there were close to 3000 eating establishments that are certified Halal by MUIS** — the only Halal certification body in Singapore. 16.0% of these eateries are located in Hawker centres.
* Compound Annual Growth Rate
** Majlis Ugama Islam Singapura (Islamic Religious Council of Singapore)
Key takeaways for industry players
The Halal Food Concentration Map of the Halal Food Lifestyle Report (Singapore) reviews the steady growth of the Halal food scene in Singapore and offers key takeaways for F&B industry stakeholders and entrepreneurs such as:
1. Identifying opportunities to innovate and expand variety of Halal food available in Singapore
With the wide availability of Halal certified ingredients in the region as well as the Muslim consumer's openness to try different types of cuisines, there are plenty of opportunities for F&B stakeholders and entrepreneurs to tap on the Halal food market in Singapore.
2. Identifying gaps in availability of Halal eateries in some regions of the island
Insights from the Halal Food Concentration Map and our survey respondents reveal business opportunities in areas around Singapore with lower density of Halal food, like heartland areas as well as the North East and South West regions.
Conclusion
Singapore's domestic Halal dining market is estimated at SGD 700 million in 2019. Although COVID-19 disrupted this in 2020, this indicates the short to medium term domestic market potential post-COVID. Moreover, with Muslim visitors to Singapore spending SGD 300 million in 2019, the total Halal dining market was estimated to be SGD 1 Billion.
We hope the insights in our report will assist the F&B stakeholders and entrepreneurs to unlock the potential of the Halal food market in Singapore and discover new opportunities as well.