This year's Halal Expo Australia 2017 will be commencing from 11th to 12th February 2017 at Rosehill Gardens, Paramatta in Sydney. The Halal Expo Australia 2017 is where global services, affiliated bodies, academics and professionals come together under one roof. The two-day event will also showcase products and services from different industries that largely contribute to the global Halal market - and include prominent Halal industry players as well.

Exhibitors from industries such as fashion, lifestyle, food, travel, health and more will have stalls or booths that promote their products and services to visitors.
Visitors to the Halal Expo Australia 2017 can also enjoy some of the ethnic food stalls, cooking competitions, cultural shows, amusements and rides too. There will also be awards distributed to those who have provided excellent Halal services.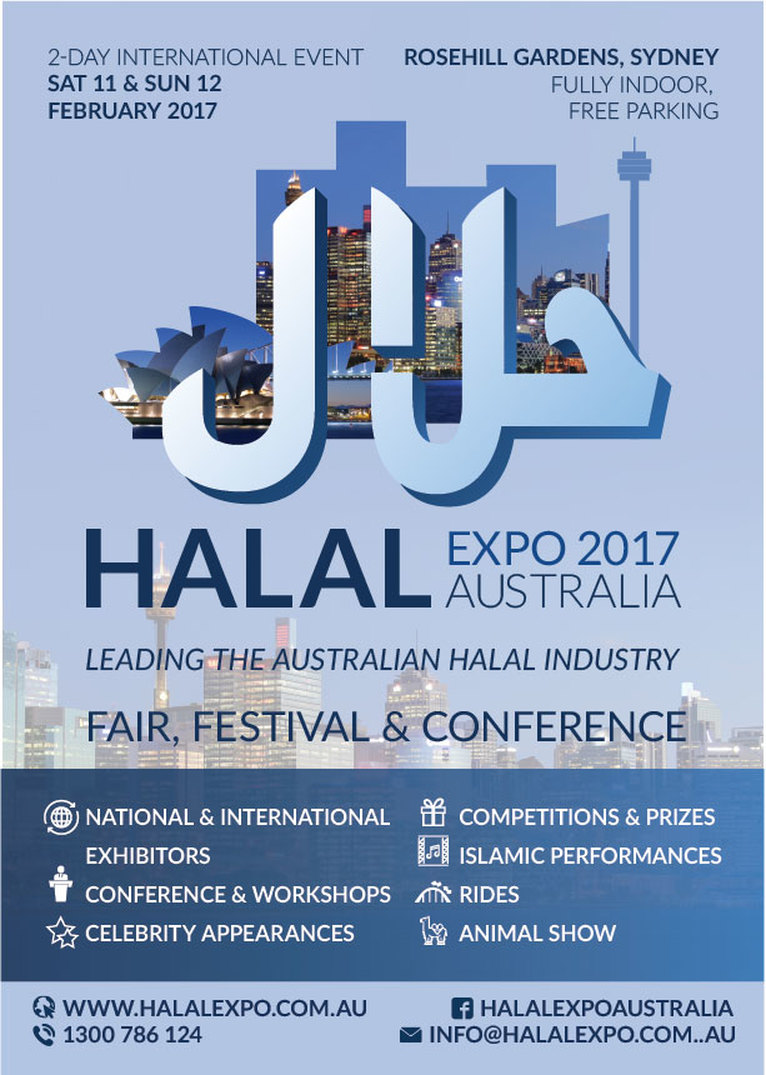 The International Halal Conference 2017
The International Halal Conference 2017 (IHC 2017) will be part of Halal Expo Australia 2017 with the theme being 'The Role of Halal in Culture, Economy and Trade'. There will be important discussions on the issues of the Halal industry and focus on finding solutions, and how contributing industries can be further improved or advanced.

The IHC 2017 will be focusing on the three prime objectives of creation, development and establishment taking the following factors into consideration -
Using valuable education, knowledge and resources to recognise the necessity of Halal products and services in a multicultural society.
Developing a socially harmonious and understanding diverse society with Muslims and non-Muslims.
Establishing a hub for academicians, researchers and business operators who are part of the Halal industry and a platform for those who want to learn more the Halal lifestyle.
The IHC 2017 will be an ideal platform for Islamic academics, representatives and entrepreneurs to interact through discussions, share their knowledge and expertise.
International Halal Conference 2017 Schedule
Several prominent speakers featured at the IHC 2017 include experts, business operators, and researchers who will be participating in engaging discussions and a wide range of topics regarding the Halal industry and lifestyle.
February 11th 2017
Healthy Lifestyle - Sheik Shady Al Suleiman and Keysar Trad
Halal Certification – Professor Dr. Winai Dahlan, Dr. Sirajudddin Bin Suhaimee and
Dr. Muhammad M. Khan
Halal Trade and Economy – Dr. Nur Rahman, Nick Farncomb, Syed Utiq Ul Hassan and Jan A. Ali
February 12th 2017
Islamic Investments and Finance – Almir Colan, Dr. Abul Jalaluddin and Dr. Imran Lum
Understanding Halal Standards And Its Effects On Your Business (workshop) – Azlan Oppier
Halal Medicine and Treatment – Dr Wafa Samen
Islamic Travel and Tourism – Professor Noel Scott and Fazal Bahardeen
Islamic Fashion and Design – speakers include fashion Industry experts
The IHC 2017 conference is a vital part of Halal Expo Australia 2017 that will feature presentations and demonstrations as well as an open forum where the audience can interact with the speakers at the end of the sessions.
Those who wish to purchase tickets and require more information regarding the Halal Expo Australia 2017 can visit the event website - http://halalexpo.com.au/