Jakarta, September 26, 2023 – The 10th Indonesia Sharia Economic Festival (ISEF) will once again be held from October 25 to 29, 2023, at the Jakarta Convention Center (JCC). Raising the theme of "Accelerating Sharia Economy and Finance Through Digitalization for Inclusive and Sustainable Growth," this year's ISEF brings together 793 exhibitors from Indonesia and 20 friendly countries.
This year's ISEF 2023 will occupy an area of 10,000 m2, which will feature 62 series of seminars, talk shows, and various other events that involve 22 ministries and agencies, 37 associations, 1,003 industry players, and 46 international partners. ISEF, which was initiated by Bank Indonesia in 2014, targets at least 40,000 visitors, including buyers and investors from domestic and foreign markets.
Indonesia's Growth Potential in Sharia Economy and Halal Industry
In this edition, ISEF has collaborated with Halal Expo Indonesia (HEI), becoming Indonesia's largest business-to-business and business-to-consumer exhibition, complete with other exciting programs such as the International Conference, Business Matchmaking, Business Forum, and other special events. This collaboration is expected to accelerate the development of halal products and attract more attention from audiences and potential buyers to participate in ISEF 2023.
The consistent commitment and collaboration of Bank Indonesia with various relevant stakeholders have further solidified Indonesia's position as a recognized global hub for the halal industry.
According to the Global Islamic Economy Indicator 2022, Indonesia ranks fourth among the largest Sharia economies, following Malaysia, Saudi Arabia, and the United Arab Emirates (UAE). In specific categories, Indonesia ranks second for halal food, third for modest fashion, sixth for Islamic finance, and ninth for halal pharmaceuticals and cosmetics.
Furthermore, according to the Islamic Finance Development Indicator (IFDI), Indonesia has seen significant progress in its ranks in the past five years, rising from the tenth position in 2018 to the third position in 2023. In fact, Indonesia has also secured the top position on the Global Muslim Travel Index (GMTI) that was released by CrescentRating in 2023.
Download the Global Muslim Travel Index (GMTI) 2023 report here.
Other achievements include the consistent growth of Sharia financial assets by an average of 11.3% over the past six years. The market share of Sharia finance in the national financial sector has also increased from 8.5% to 11% over the same period. The establishment of three Halal Industrial Zones (KIH) in the provinces of Banten, East Java, and the Riau Islands is a significant foundation for making Indonesia a Global Halal Hub. Additionally, in 2022, it was documented that the total halal product exports had reached USD 15.87 billion (Ministry of Trade).
ISEF 2023 Programs and Collaborations in Increasing Sharia Literacy and Halal Lifestyle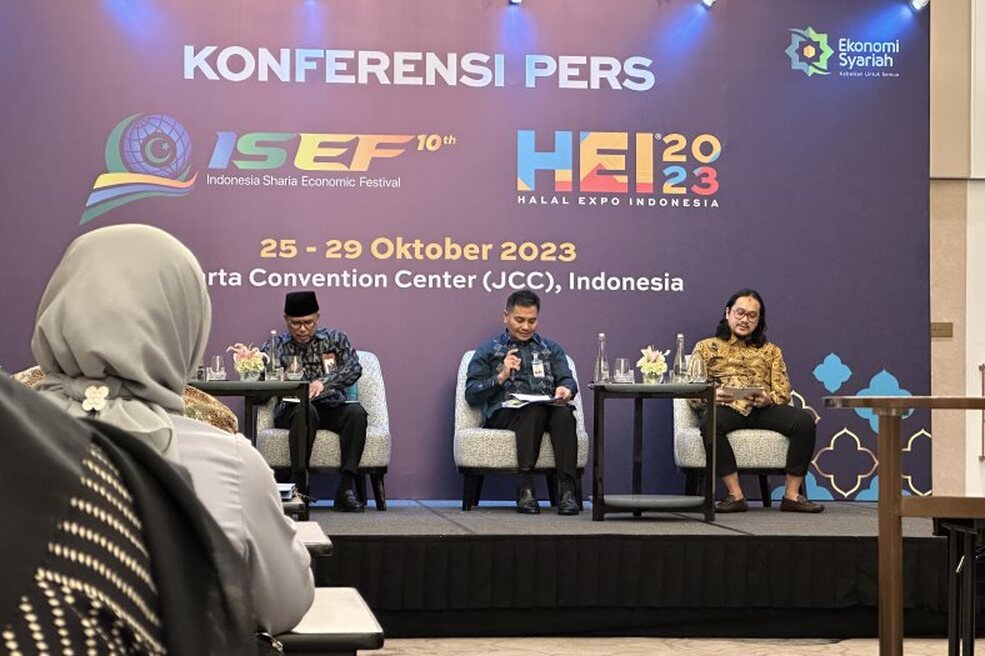 With these achievements, Wahyu Purnama, Director of the Department of Islamic Economic and Financial Affairs at Bank Indonesia, stated that ISEF 2023 will strengthen joint efforts and synergize various policies and programs for the development of Islamic economy and finance among multiple authorities and relevant institutions through the Komite Nasional Ekonomi dan Keuangan Syariah (KNEKS).
As one of the state institutions consistently supporting the development of the Islamic economy and finance in Indonesia, Bank Indonesia continuously expands its network with various stakeholders to strengthen the halal value chain ecosystem. This includes PT Halal Expo Indonesia (HEI), which is a strategic partner with the Indonesian Muslim Entrepreneurs Community (KPMI) and will facilitate business matching programs during ISEF.
"The collaboration between ISEF and HEI is expected to enhance synergy and the joint efforts between the government and businesses in the development of Islamic economy and finance towards realizing Indonesia's vision as the global halal center in 2024," said Wahyu Purnama, Director of the Department of Islamic Economic and Financial Affairs at Bank Indonesia.
He also mentioned several special events at ISEF 2023, including the Indonesia International Modest Fashion Festival (IN2MF), which involves international designers to help scale up Indonesia and make it a global reference for modest fashion, and the International Halal Chef Competition (IN2HCC), which is the world's first event of its kind. Furthermore, there will also be nine international events held in collaboration with IFSB, IsDB, IIFM, and IILM to strengthen Indonesia's positioning as an international halal hub for the development of the Islamic economy and finance.
Wahyu has also added that one of the main focuses of this year's ISEF is to increase the literacy and awareness of the Sharia economy, which in total only resulted in 23.3% of the total Indonesian population. With a target of 50% by 2050, synergy within each stakeholder as well as public awareness of increasing Sharia literacy and implementing it as a lifestyle in business activities, are therefore important. Therefore, valuable collaborations and realigning the vision regarding the growth of Sharia economics are becoming important points in achieving these goals.
In order to enhance inclusivity, ISEF 2023 will host the ISEF Fun Walk, Tablig Akbar, a series of talk shows with experts and practitioners that the public can attend, as well as various other events in collaboration with relevant parties.
HEI's Commitments and Strategic Partnerships
Aryo Wibisono, CFO of PT Halal Expo Indonesia, appreciates Bank Indonesia's commitment to consistently promoting the development of the Islamic economy and finance in the country. By including the HEI event at ISEF 2023, Aryo stated that business operators will be facilitated to export their products to several partner countries, especially in the Middle East, Saudi Arabia, the United Arab Emirates, and other countries.
"For business operators with intentions to partner with international manufacturers, various opportunities are also available. This is because HEI is held to present on behalf of other friendly countries looking to expand into Indonesia and seeking local partners," Aryo added.
The intentions and partnerships aim to facilitate the needs of both businesses and consumers. Through HEI, it is hoped that not only businesses will be able to reach out and strike out beneficial partnerships but also potential consumers and increase awareness of these halal and Muslim services. Therefore, fulfilling the supply and demand in the halal industry may be through cash or non-cash transactions, on-spot or online sales, or funding to further enhance the halal industry's growth.
Aryo also added that Halal Expo Indonesia (HEI) has partnered up with several International Halal Expos and Halal Authorities, including Saudi International Halal Expo, Halal Expo Nigeria, Halal Expo London, Malaysia International Halal Showcase (MIHAS), Korea Halal Authority, Halal Control Germany, Vietnam Halal Center, Japan Halal Certification Promotion Organization, Cape Malay Consultant, and others.
Halal Expo Indonesia has also recently signed a strategic agreement with Wasabih, a highly regarded online community in the global Islamic economy. Its members include professionals and halal business players. Through the Wasabih platform, various halal businesses will connect, making it easier for entrepreneurs to find suitable business partners, plan meetings, and engage in business matchmaking. Wasabih has received commendable recognition among Muslim and non-Muslim professionals who aim to make an impact and address the growing economy, which is growing at 9% annually.
KPMI Participation in Maximizing SMEs and Local Businesses Potential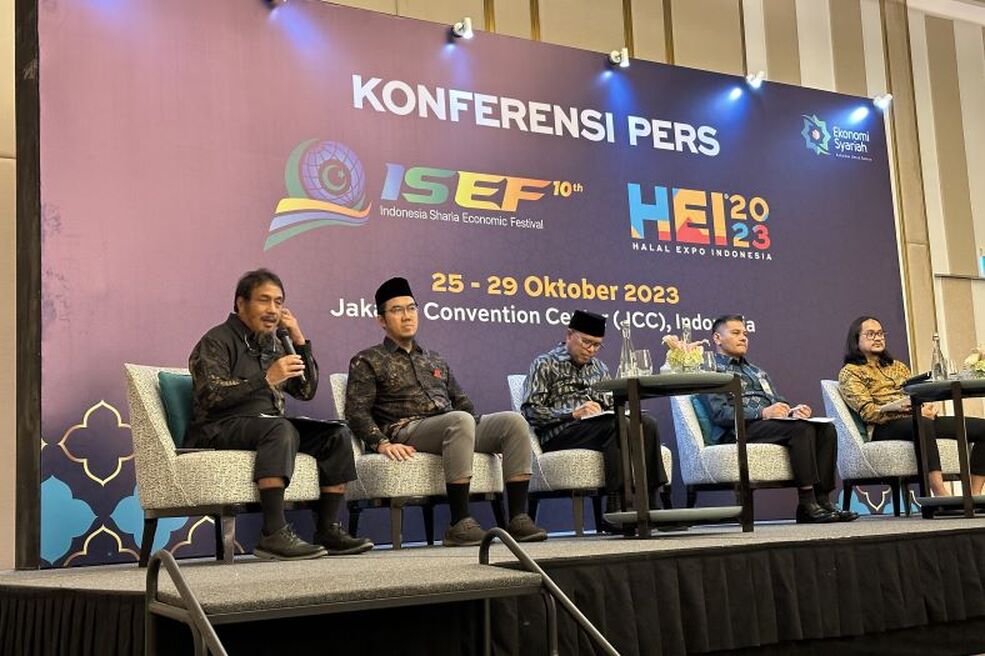 During the HEI event at ISEF 2023, Komunitas Pengusaha Muslim Indonesia (KPMI), which has an Export Academy program focused on developing export human resources, will collaborate with Nudira Learning Center, Aspenku.com, and Hibbu Creative House to enhance the scalability of SME businesses towards the global market.
Through KPMI, SME businesses and their members will also be trained to be export-ready, with good corporate governance, achieving quality requirements, and implementing systematic management that is based on Sharia. Making each participant, especially those who will be partaking in ISEF and HEI, able to maximize their potential and future growth in the Halal industry.