For almost a decade, CrescentRating has analysed the Halal travel market and benchmarked destinations with the annual Mastercard-Crescentrating Global Muslim Travel Index (GMTI) reports. As ever, the industry has been rapidly evolving amidst a dynamic backdrop of changes across the Halal lifestyle space. The Halal Travel Frontier 2018 report aims to help destinations and services to prepare effectively to meet the changing behaviour of the growing Muslim travel market.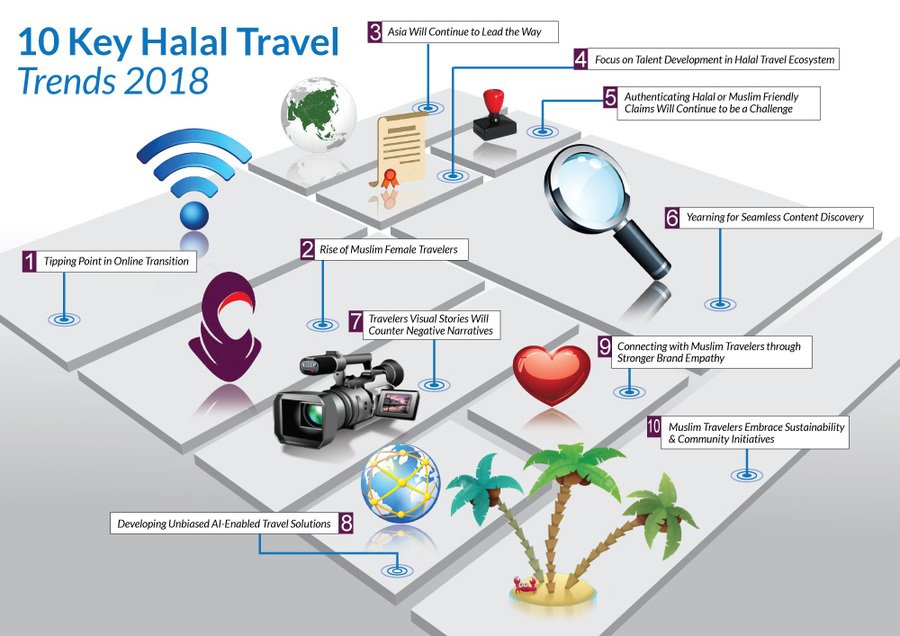 Muslim Millennial Travelers (MMTs) will continue to be a key driving force shaping the Halal travel industry in 2018. As they continue to demand experiences which are Authentic, Affordable and Accessible, they will also be the main contributor towards a massive shift to a digital Muslim travel space. From the MMTs also emerges an inspiring segment of Muslim Female travelers that destinations and service providers should prepare to engage with.
South East Asian and North Asian destinations will continue to dominate the growth of Muslim visitor arrivals. Product innovation targeting Muslim travelers will emerge from these destinations.

Brands would also need to increase their level of empathy and find new ways to better connect with Muslim travelers. This will be key to both appeal and empower their Muslim travelers. According to Peter Gould, the Design Executive Director of Zileej, "Embracing this design-driven approach is an opportunity to engage and connect with increasingly sophisticated Muslim audiences, by communicating your brand's Islamic ethos in a more intuitive and interesting way."

Finally, the travel industry is also moving into a market growth phase where there is an urgent need to develop new talent to meet the changing demographics and lifestyles of the Muslim travel market. There is much potential here to uncover and provide new travel experiences by equipping professionals with the necessary competencies and accreditation that will give destinations and service providers a competitive advantage in the Halal travel ecosystem.
This year's trend Halal Travel Frontier report covers all these topics and more. The full report is available here.