In the travel industry, the conversation focuses entirely on voluntary travel; travelers with choices, financial independence, and the legal rights to freedom of movement. Yet today, over 70 million people are living in limbo, having been forcibly displaced from their homes, and this population is only growing.
As the leading authority on the Muslim Travel Market, CrescentRating wishes to bring to light the stories of the most marginalized travelers. "UNHCR-CRESCENTRATING FORCED DISPLACEMENT - A REALITY FOR MILLIONS OF WOMEN" is the first publication in an exciting new partnership between UNHCR and Crescentrating.
Having recently published the "Mastercard-CrescentRating Muslim Women in Travel 2019 Report" this UNHCR-CrescentRating joint publication focuses on the situations of the women who have been forced to travel to survive. The intent is to give a platform to the voices that have not been given a place in this industry, to raise awareness about the reality of displacement and what travel means to the most vulnerable.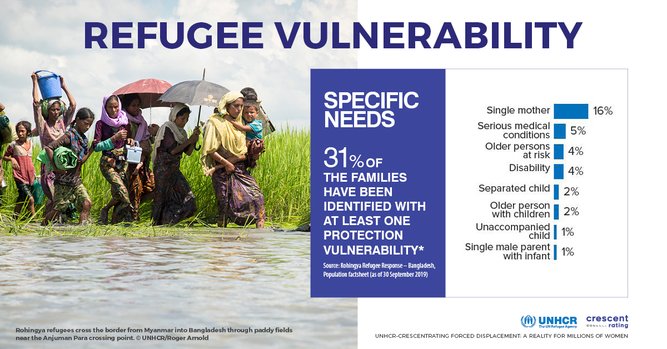 UNHCR and CrescentRating want to provide opportunities for the travel industry to support the cause of the forced traveler by striving to highlight not only what is happening, but also what action can be taken to help.
According to Aayesha Fazal, the Social Impact Advocate at CrescentRating and HalalTrip, CrescentRating intends to embark on a new series of reports, exploring the role of the traveler in engaging with global issues, understanding our social and environmental impact, and being intentional in our choices and contributions to destinations. This publication marks the beginning of a new understanding of the mindset of the modern traveler. The traveler who is aware and mindful of global issues and wishes to be of positive impact while navigating the world.
CrescentRating and UNHCR together are issuing a call to action from the travel industry to recognize and contribute to this cause.
"We are pleased to partner with CrescentRating to highlight the situation of women forced to flee, their strength and resilience in the face of adversity, and the role of the Refugee Zakat Fund in providing assistance. Many displaced populations live in urban areas (vs the common misconception of being in camps). Having endured years away from their homes and work, displaced families have depleted their savings and resources and are struggling to pay for very basic life essentials," said Shadi Ghrawi, Private Sector Partnerships Officer, Islamic Philanthropy at UNHCR.
Building on its extensive cash assistance network and rigorous governance, UNHCR has successfully piloted the receipt of Zakat funds in 2017 and 2018. In 2019, UNHCR launched its 'Refugee Zakat Fund', a globally trusted and efficient structure to assist the most vulnerable refugees and internally displaced persons worldwide.
With more than $50 million in Zakat funds donated since 2017, UNHCR is gearing up towards major impact to assist more than 1 million beneficiaries by the end of 2019.
Today's displacement crises are a test for humanity. Join UNHCR and CrescentRating today in raising awareness about refugees, and extending a helping hand to the most vulnerable.
Shadi Ghrawi from UNHCR shares, "Helping refugees through Zakat is not only an act of philanthropy, but also a realization of the SDGs and Agenda 2030 pledge to 'leave no one behind'."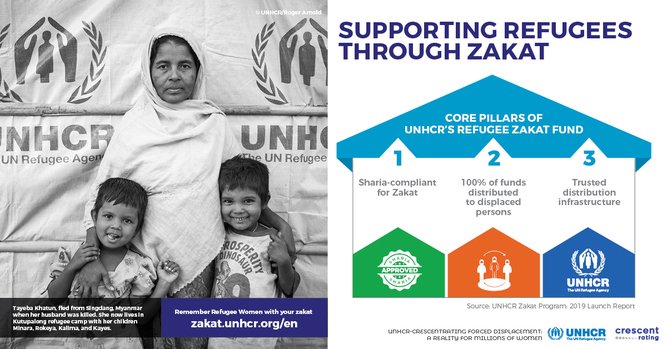 Learn more about Refugee travel the Global Refugee Zakat Fund in our publication here.