In the month of Ramadan, Muslims fast from sunrise to nightfall. The motivation behind fasting isn't just to avoid food and drink but to develop discretion and expert appreciation by creating sympathy towards the less fortunate. In the Islamic schedule and calendar, Ramadan falls in the ninth month, which depends on the lunar framework, and, in this way, has a year cycle rotating about 355 days.This article, attempts to give you an overview of Ramadan and the EID.
Ramadan is all Over the Globe
The length of the fasting time frame can shift considerably across various areas of the planet because of the changing seasons of dawn and nightfall. For example, although the typical fasting time during Ramadan is around 12–15 hours every day, particular regions of the planet, like Europe, can encounter fasting lengths exceeding 20 hours when Ramadan happens throughout the late spring months.
In some regions of the planet, when Ramadan happens during summer, the daytime temperature could take off above 40 degrees Celsius. As a result, while lifestyle changes are expected for Muslims worldwide, the experience of fasting may differ in different areas due to the effect of fasting duration and daytime temperatures. Concerning the average way of life changes of Muslims during Ramadan, even though they will go on with their typical everyday exercises, they will likewise dispense extra time and exertion towards other profound practices, like investing a lot of energy in reading the Qur'an.
In 2022, the season of Ramadan will start on April 2. On this day, the new moon will be visible to other parts of the world, such as Saudi Arabia, followed by Bahrain, Egypt, Kuwait, Oman, Qatar, and the United Arab Emirates.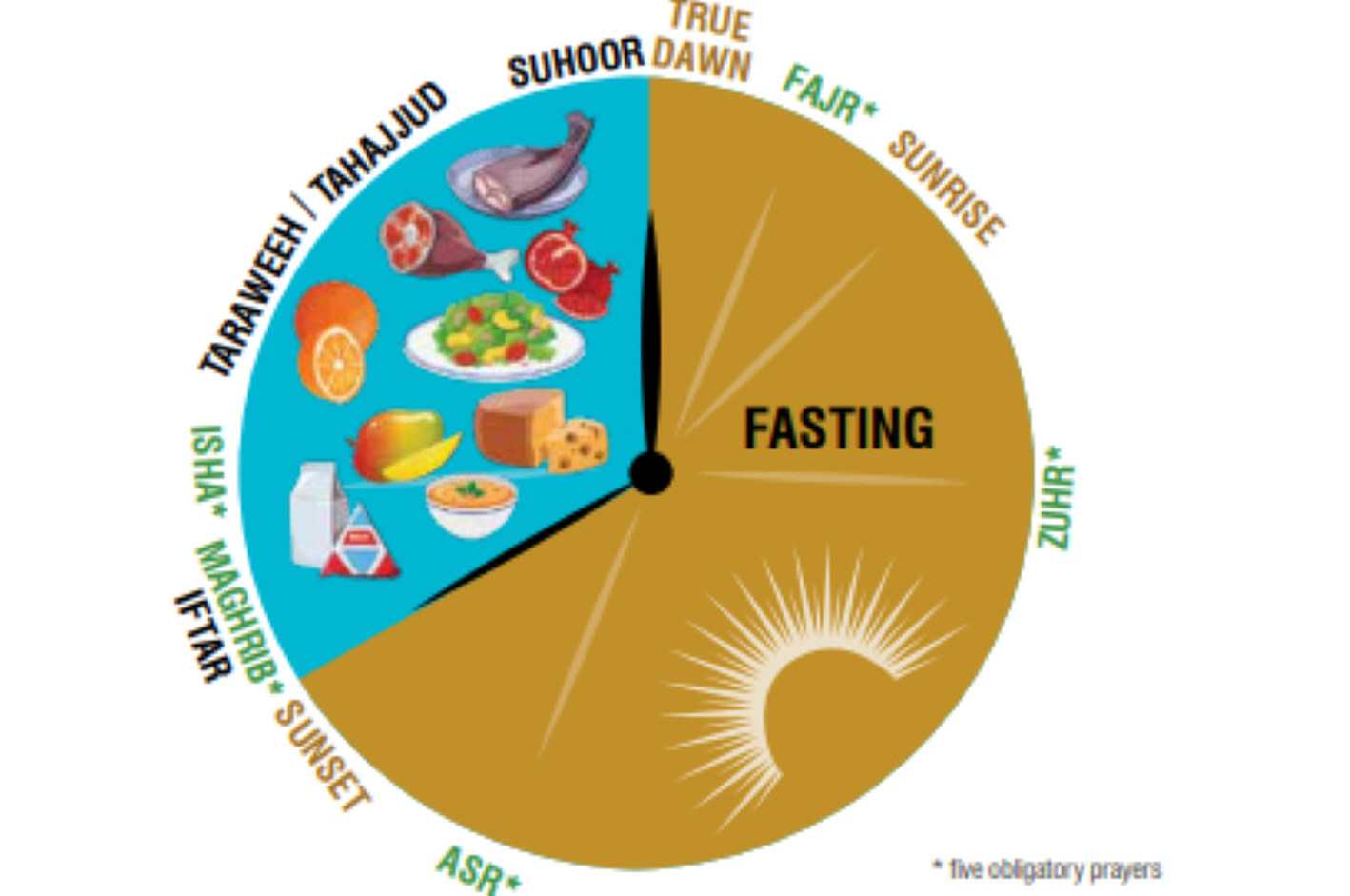 Image Source: Crescentrating
What makes the Ramadan season one of a kind?
Saying the prayers of Taraweeh: this is an extra congregational petition during Ramadan that most Muslims do. It is offered after the last compulsory plea of the day, called Isha.
Contributing through Zakat (al-Maal): Zakat al Maal is the obligatory yearly expenditure on Muslims whose entire wealth has arrived at a specific, most minor edge. The hour of giving Zakat isn't connected to Ramadan; most Muslims will quite often disperse their Zakat during Ramadan.
The Eid Prayer: This is an extraordinary petition to heaven performed on the arrival of Eid in the early morning just after dawn to express gratitude for the blessed month of Ramadan and to begin the day of merriment by participating in love.
Zakat (al-Fitr): This is well defined for Ramadan and should is paid before the Eid prayers.
Sadaqa: This alludes to any remaining types of good cause, either monetary or non-monetary. It is not attached to a particular period and can be given as often and in whatever structure it suits.
Eid-ul-Fitr: The finish of Ramadan is set apart by a festival called Eid al-Fitr. Albeit Islamically, it is the first day of a seemingly endless amount of time after the long stretch of Ramadan. Contingent upon the social standards of the locale, it could happen for as long as three days. Eid prayers precede the celebrations of the day. Contingent upon locating the new Eid al-Fitr, this year is probably going to fall on May 2.
Fasting: This is quick from not long before the dawn, or Fajr, prayer to the nightfall supplication, Maghrib. It involves restraint from eating, drinking, smoking, and sexual relations to accomplish a more prominent "taqwa," or awareness of God.
During Ramadan, Muslims are obliged to say specific vital prayers. These are: Isha, Maghrib, Asr, Fajr, and Zuhr.
What are the statistics saying regarding Ramadan 2022?
There are two billion Muslims, and it is anticipated that 1.4 million will be fasting for not less than 12 hours and not more than 17 hours daily. But on average, most will be expected to fast for no less than 14 hours and no more than 15 hours every day. Further, the two billion Muslims are from countries numbering more than 200. By the end of Ramadan, it is expected that at least 100 billion Dates will have been consumed. Statistics suggest that over two-thirds of Muslims will be fasting with extended family and friends. Visitations to mosques will be made by over five hundred thousand Muslims twice daily.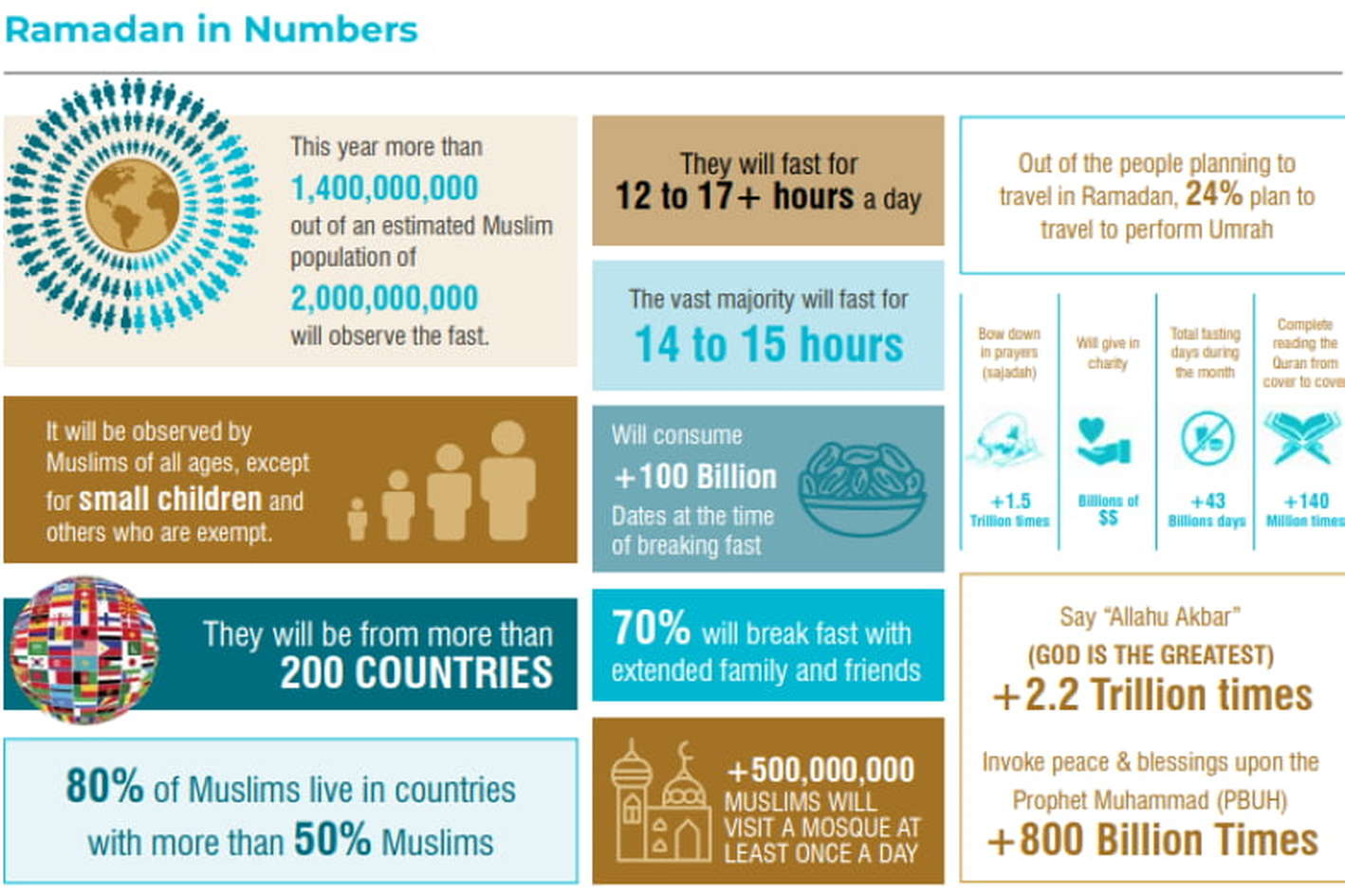 Image Source: Crescentrating
Download report.