We believe that the GMTI 2022 rankings and results would be beneficial for places worldwide as they prepare for resuming Muslim tourism, with treading the path towards complete recovery with cautious hope.
In response, we published some publications in the report to give interested parties a deeper understanding of how to prepare for an increase in foreign travel. The Travel Readiness Indicators that have changed our GMTI rankings for 2022 are discussed in detail in this article. Approximately, 160 million Muslim tourists arrived from other countries in 2019. The number of Muslim travelers is expected to reach 140 million in 2023, and the market growth projection will return to 160 million in 2024 due to the expansion of international travel. The 230 million arrivals predicted before the epidemic will now only be attained in 2028. By 2028, it is predicted that spending will amount to USD 225 billion.
The ongoing conflict in Ukraine, rising gasoline prices, and other health hazards like the emergence of monkeypox or COVID-19 mutations might all thwart this fragile healing process.
The figure below shows the market trend in the growth of Muslim travel.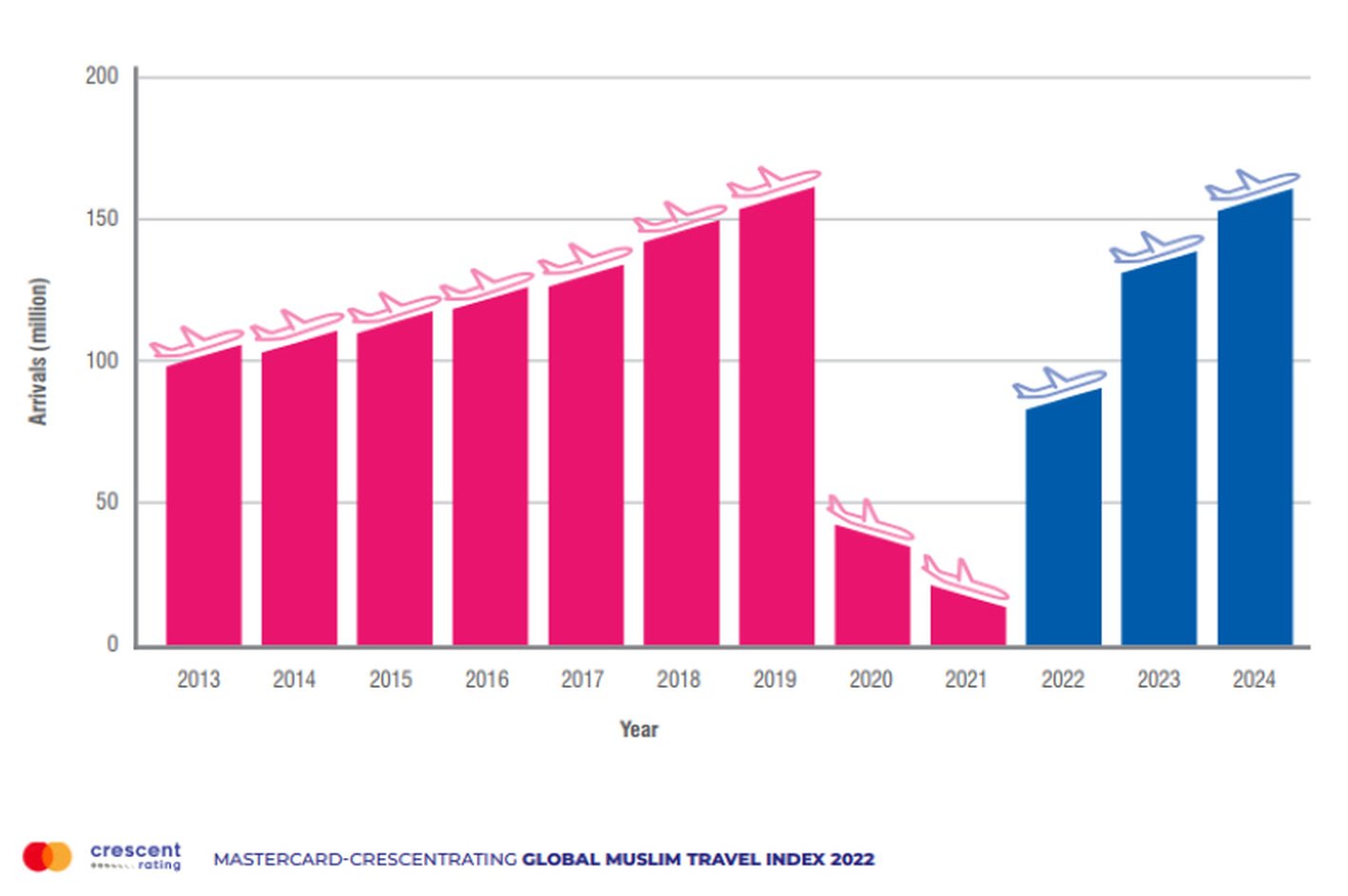 Image Source: GMTI Report 2022
The Impact of the Ukraine-Russia Conflict on Halal Tourism
Sanctions have already had a huge negative impact on the Russian economy and will also have a big influence on travel and business both within Russia and abroad. Short-term travel from Russia and Ukraine is restricted. It harms nations that depend on foreign tourists. Travel from Russia is projected to have greater effects.
Longer-term supply interruptions in the food supply, gas, and oil could add to the already high inflation rates in Western countries, particularly in Europe. In addition, since Western sanctions affected Russia's hydrocarbon-based industry, jet fuel prices have increased sharply, driving up the cost of plane tickets overall. Nonstop roundtrip flights from Moscow to Dubai start at $609 on flydubai, $1,359 on Emirates, and $810 on Turkish Airlines, a few hundred dollars more expensive than before February 24. It has slowed down the recovery of international travel. This will adversely affect halal travel for a certain period.
At least five tourist hotspots that were once popular with Russian and Ukrainian travelers are already suffering due to the decline in the number of Russian Muslims traveling abroad: Thailand, Vietnam, Turkey, Egypt, and Cyprus.
The Halal Tours Are Affected by Covid-19 Mutations.
Since the pandemic started, the Covid-19 Resilience Ranking has shown some of the worst nations to visit due to high rates of COVID-19 mutations. This means the number of halal tourists who had planned to visit such nations have changed their minds and are looking for another destination or canceling the tour.
Countries that rely heavily on tourism will probably be affected by the crisis for much longer than other industries. This is because contact-intensive services crucial to the travel and tourism industries are disproportionately impacted by the Covid-19 mutant. They will continue to face challenges until people feel confident enough to travel in large numbers.
Some Muslims believe COVID-19 to be a hoax or conspiracy, which has caused the adopters of this viewpoint to carry on with their everyday activities. One of these activities is visiting sacred sites outside of Mecca and Madinah, such as the Shia holy sites in Iran and Iraq. This is not just the case for Shia Muslims; certain Sunni Muslims also follow this practice. Their travels take them to mosques connected to the family of the Prophet Mohammed (PBUH) or notable imams in Cairo and other Egyptian cities. These are a few of these locations: El-Hussain Mosque, El-Sayyidah Zainab Mosque, El-Sayyidah Nafesah Mosque in Cairo, etc.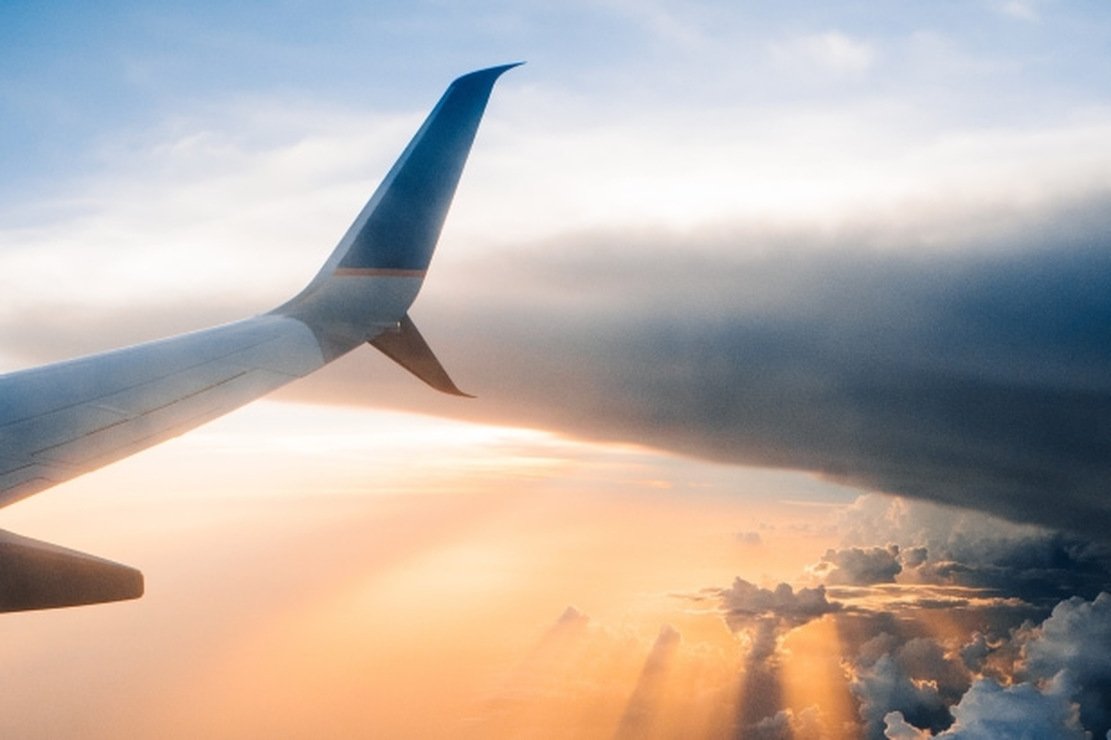 Image Source: Unsplash
It is important to note that, from an Islamic perspective, traveling during pandemics differs significantly from traveling during regular times. Muslim tourists and travelers disagree with one another over how to handle COVID-19. Some interpret Islamic legal texts linked to travel in general or during the epidemic. Islamic Shariah obligates Muslims to abide by the directives of the two main Islamic Shariah sources: the holy Quran and the teachings and speeches of the Prophet Mohammad (PBUH).
More empirical research must be done to understand how Muslim travelers feel about pandemics like COVID-19. By filling this essential research vacuum, the study will assist marketers in better understanding how Muslim travelers view and interact with COVID-19. It is intended that by having a better grasp of Muslim travelers' perspectives and attitudes, authorities and tourism businesses will be better able to organize their strategies. Future studies can also look at how Muslim tourists' COVID-19 perceptions affect various forms of halal tourism, which will advance the field's understanding.
What Next For GMTI 2023?
Halal tourism must be taken into account because it has a bright future. After all, the Islamic world is home to many popular tourist attractions and markets. Moreover, with initiatives to develop and promote tourism in Saudi Arabia and Uzbekistan and the restoration of lost heritage sites, demand for halal travel is rising.
The acceptance of halal tourism is also on the rise as more OIC sites follow suit and discover treasures that can interest Muslim tourists. The halal tourism sector is tailored to the unique requirements of Muslim travelers, who primarily seek a family-friendly setting, creating a favorable atmosphere for the expansion of halal tourism demand.
The Organization of Islamic Countries (OIC) members are the main forces driving the halal tourism market boom, contributing to APAC's 35% market dominance.Several halal tourism market trends are anticipated to emerge during the projection period due to the rapidly expanding Muslim population in various non-Muslim majority nations, including North America, Europe, India, and China.Halal tourism is anticipated to account for 27% of the market share in North America during the forecast period (2022–2032). Crescentrating will keep you updated on the upcoming trends.
Download report.