CrescrentRating and Mastercard are proud to present the 6th edition of the Global Muslim Travel Index (GMTI).
As we tread the path towards full recovery with cautious optimism, we believe findings and the GMTI 2021 rankings would be of great help for destinations around the world in gearing up for the resumption of Muslim travel.
In turn, we launched a series of reports to provide stakeholders a closer look on how to prepare for the return of international travels. In this article, we will be introducing you all about Travel Readiness Indicators, and how these have transformed our GMTI rankings for 2021.
GMTI 2021: The Results
Despite the gloominess prevailing over the Muslim travel industry, driven primarily by the COVID-19 pandemic, we are glad to announce that 140 destinations made it to the cut for this year's GMTI rankings.
When CrescentRating first published the annual GMTI in 2015, a total of 100 destinations were included in the rankings. In 2016 and up to 2019, it increased to 130.
In our 6th Edition, some destinations have been dropped but new ones were added. They account for more than 95 percent of Muslim visitor arrivals.
Region-wise, Europe has the most number of Muslim friendly destinations, with 39 states included in the 2021 GMTI rankings. Asia came next, with 38 destinations spanning from the East to the South.
Furthermore, 34 African countries were included in the latest list of destinations that are ready to accept Muslim travelers, with the sufficient policies and infrastructures needed to respond to any health-related issues.
In the Americas, 26 nations are part of the 140 destinations in the 2020 GMTI rankings. On the other hand, Australia, New Zealand, and Fiji also made it to the rankings of Muslim-friendly destinations, representing Oceania.
See the complete list below.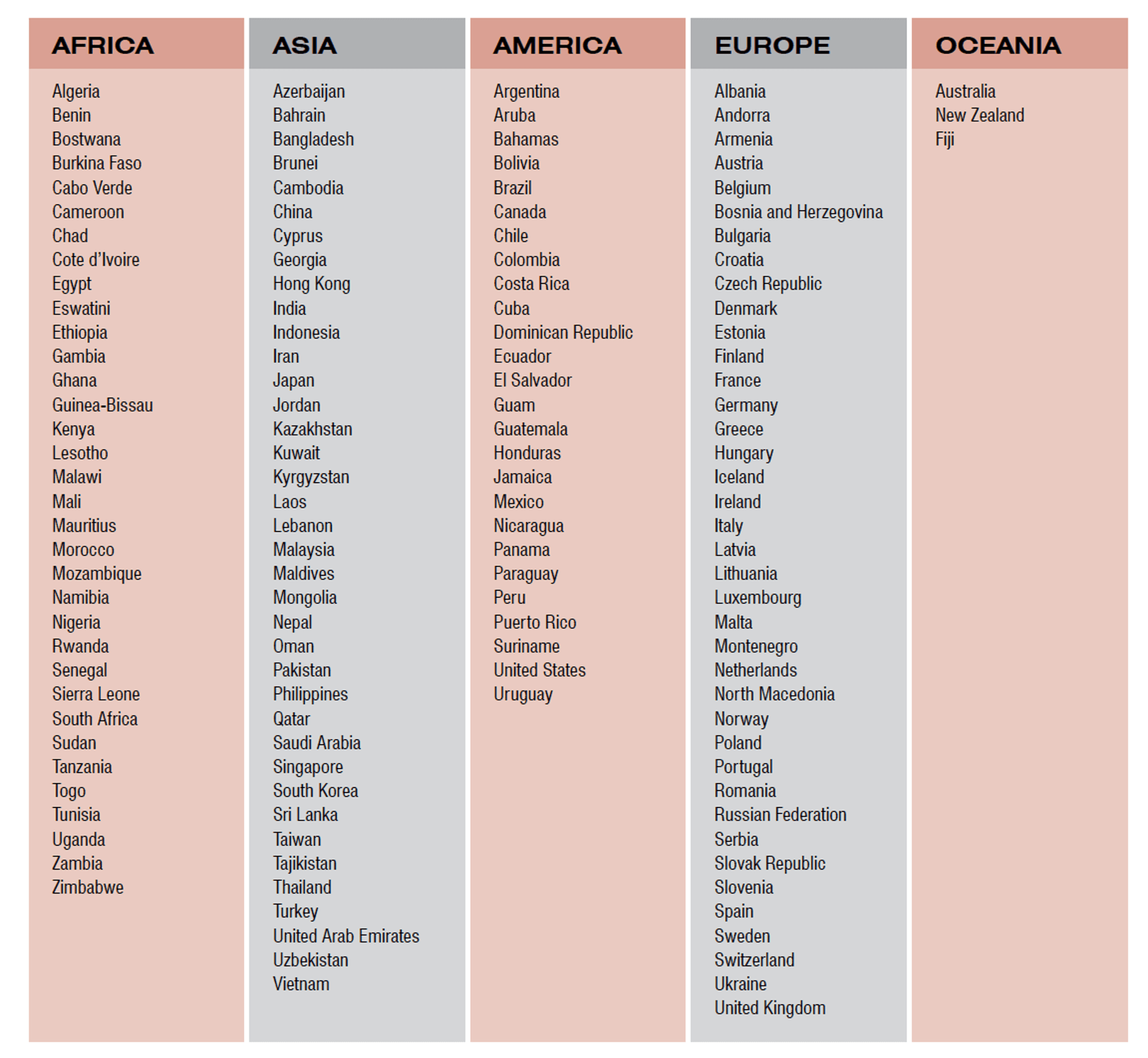 GMTI Amid the Pandemic: All About Travel Readiness
CrescentRating has been the authority in benchmarking destinations for their Muslim-friendliness since 2011. Four years later, the annual rankings were transformed to become what is now known as the Mastercard-CrescrentRating Global Muslim Travel Index (GMTI).
After taking a pause in 2020, when the COVID-19 pandemic disrupted virtually everything, we decided to introduce new and vital elements in the GMTI rankings, both to better reflect the current state of the Muslim travel market, and determine a destination's travel readiness.
CrescentRating ACES Model 3.0: What's New?
Since 2017, CrescrentRating has been using the ACES model in ranking the Muslim friendliness of more than 100 destinations. ACES stands for Access, Communications, Environment and Services. These are the four, primary factors that illustrate a country or destination's readiness in accepting Muslim travelers.
In this edition of GMTI, we are introducing a revamped ACES model called ACES 3.0. More than 40 data sets are used to compile the GMTI scores based on this latest model.
In ACES 3.0, we decided to add more sub-criteria under Communications as we observed how consistency in messaging and connecting with Muslim travelers played a vital role in keeping the tourism industry afloat during the pandemic.
We also believed that effective communication strategies such as Destination Marketing, Communication Proficiency and Stakeholder Awareness will stay, even in a post-COVID era.
The ACES model evolve from time to time in order for us to keep up with the developments in the Muslim and the overall travel market. For the meantime, we have set aside "Visa Requirements" and "Unique Experiences" as part of our ACES model in this year's GMTI rankings.
Travel Readiness Indicators
The 6th Edition of GMTI comes at a time when the COVID-19 pandemic gradually becomes endemic, with more and more vaccination drives being conducted in different parts of the world. However, this does not mean stakeholders in the Muslim travel sector must completely abandon all restrictions and regulations made at the height of the public health crisis.
This is why we rolled out Travel Readiness Indicators as one of our highlights in the 2021 GMTI.
We believed destinations looking to successfully attract Muslim travelers will be able to respond to their guests' faith-based service needs at the same time, effectively manage COVID-19 situation in their areas.
Our latest rankings, in turn, not only focused on a destination's ease of access, facilitation of communications, and comfortable and quality services. But also on prevention, detection and control measures related to COVID-19 which, altogether, formed part of our Travel Readiness Indicators.
In summary, Travel Readiness Indicators underscore the readiness of a destination's health environment in responding to any health-related concerns. These are divided into three categories: Prevention, Detection, and Control.
Prevention pertains to vaccination drives and other public information campaigns meant to educate the general public in protecting themselves from diseases and other illnesses. Detection, on the other hand, points to testing policies while Control refers to suppressing and containing outbreaks which can come in various ways - contact tracing measures, restriction of mobility, implementing remote work arrangement, event cancellations, to name some.
Data sets dated June 20, 2021 from the Coronavirus Government Response Tracker (OxCGRT), published and managed by researchers at the Blavatnik School of Government at the University of Oxford, were used in analyzing each destination's Travel Readiness Indicators.
Conclusion
Our extensive insights, coupled with in-depth industry research and intelligence, have helped Muslim travelers around the world as well as stakeholders of the Muslim travel market. We may have paused our annual Global Muslim Travel Index (GMTI) during the pandemic but as we greet a brighter future, we are committed in delivering timely and accurate information. We hope the findings and new components of the 6th Edition of the GMTI 2021 would be of great help to everyone in navigating the Muslim travel market in a post-pandemic era.

Download the full report here.